LUMISTY is the world's first 'Point of View' Glazing Film. That is to say, it's the only glazing film that changes from clear to frosted depending on the viewing angle.
If you've seen LUMISTY in action you've experienced the unexpected and pleasing visual sensation it creates. Upon first encountering the product, people are often struck by what they think is an optical illusion. Walking past a window with LUMISTY applied, a perfectly clear, transparent glass surface becomes, in a step or two, partially fogged. Two or three steps later, the same window is completely fogged. Walk backward or forward, and it's clear again. As the viewer's angle shifts, so does the transparency or translucency of the film.
LUMISTY is available in three types: X, Y, and Z. Each version offers varied invisible ranges in a vertical or horizontal direction. Single-ply LUMISTY has one view control film. Double-ply LUMISTY has two view control films and provides a wider invisible range than single-ply LUMISTY.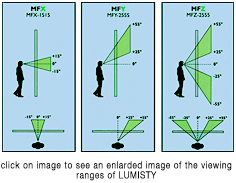 Film Finishes

All Lumisty glazing film has a frosted appearance, but changes from frosted to clear depending on the viewing angle.


Applications

LUMISTY applications typically fall into four main categories: retail or exhibitions displays, active graphics, privacy/security screening and view control/modesty on glazed balustrading and walkways.
1. Retail displays
LUMISTY is used to enhance the eye-catching appearance of shop window displays in a wide variety of retail sectors. The view control film can be added to an existing display or can be combined with special lighting effects such as back projection when designing a brand new window dressing.
2. Active graphics and logos
For window graphics that appear and disappear as you walk by. LUMISTY 'active graphics', either made from film or cut clear out of completely filmed panel are arranged so that the design is apparent from one viewpoint but invisible from another, lending much greater impact to the communication of your message or logo.
3. Privacy and Security
The optical performance of LUMISTY lends itself to many requirements of privacy and security. Typical applications include reception and security areas and offices handling financial and other sensitive information.
4. View control and modesty
LUMISTY is the ideal product to provide screening just where it is needed, for example on stairwell or elevated walkway glazing. A typical requirement is to obscure a given line of vision for modesty and for the benefit of vertigo suffers.
LUMISTY appears the same, at any given angle, to viewers both sides of the glass, and does not privilege either with one-way privacy effect. However, by selecting the correct film type, it is possible to introduce the required vision control in many different situations.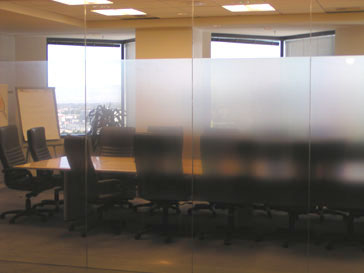 View control
In the translucent areas, LUMISTY diffuses transmitted light and offers excellent invisibility. The total light transmission in the translucent area is the same as in the transparent area (88% approx.).

Click here to download our Lumisty Data Sheet
Newindow Films can work with your designers or can custom design your own unique LUMISTY imagery for your glass.
We offer free consultation to discuss your specific needs or requirements. Call us direct at 604-687-1999 or 604-835-9635.